Types of alcohol
There are many different types of alcoholic drinks and it's important to know which ones contain glucose and carbohydrate to help you work out what effects they will have on your blood glucose levels.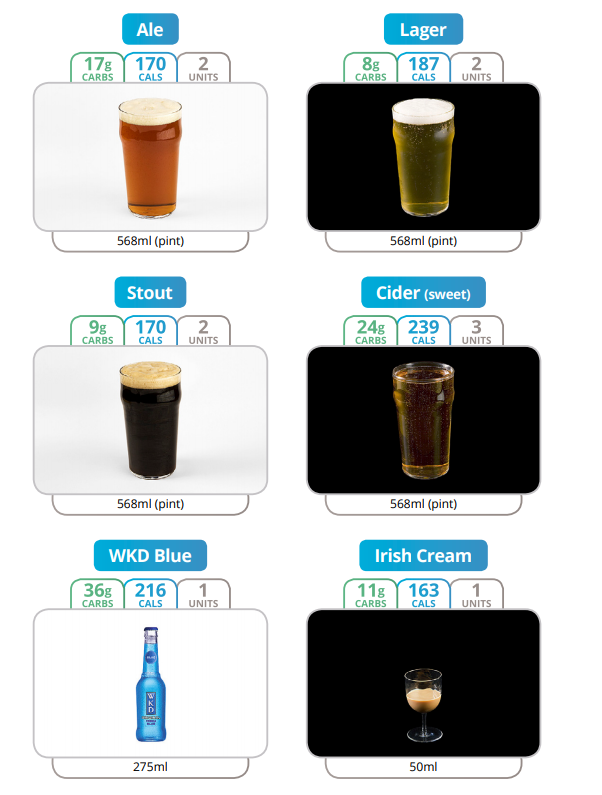 Have a look at the table below: In each case, two similar drinks are shown i) a high sugar option and ii) a low-sugar version, together with the verdict on which is lower carb option.
Alcoholic drink
Carbohydrate per serving
Equivalent in sugar cubes
Alcohol units per serving
Calories per serving
25 ml vodka and 100 ml coke
vs
25ml vodka and 100ml diet coke
10.6 g


Trace
4


0
1


1
95


52
Lower carb option = vodka and diet coke
No carbs compared to 10g
No added sugar
Same amount of alcohol
43 calories less per drink
275ml bottle Smirnoff Ice
vs
275ml bottle Smirnoff Mule
20 g


7 g
8


2
1.5


1.5
180


130
Lower carb option = Smirnoff Mule
13 g carbs less
7 sugar cubes less
Same amount of alcohol
50 calories less per drink
Pint Tennent's or Fosters Lager
Vs
Pint dry cider
Vs
Pint sweet cider
0 g


15 g

25 g
0


6

10
2.2


2.2

2.1
166


206

241
Lower carb option = lager
No carbs compared to 15–25 g
0 added sugar
Same amount of alcohol
40–75 calories less per drink
An Aftershock to finish
10 g
4
1
111
You can see the contents of similar drinks can actually vary a lot and can have the same alcohol content but quite different carbohydrate levels.
---